The Daytona 500 2022 is coming near, and we are sure that none of you would want to miss the TV broadcast. Next year would be the 64th running of the race, and you could be sure that this race would be as interesting as the last one.
For people who cannot come to the arena would want to watch the live broadcast, it is important to know about 2022 Daytona 500 TV Channels Broadcasting Rights.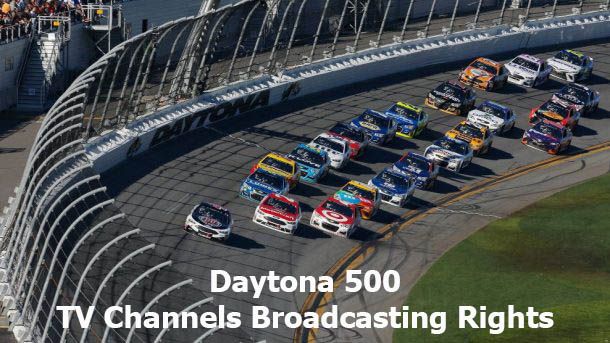 There are four major channels which hold broadcasting of Daytona rights throughout the years: ABC, CBS, NBC, and FOX. The first station to broadcast the whole session of the race live was CBS, and it was considered risky by their executives. But then when harsh weather came, and the television gained a huge number of viewers, this live broadcast was considered the groundbreaking of the modern sports broadcasting. This flag-tog-flag broadcast helped to introduce sports to the public and gained fame at that time.
The current exclusive Daytona 500 broadcasting rights belong to FOX in the United States, and this contract has validity until the 2024 NASCAR season. Holding the exclusive rights means that FOX also has the rights to broadcast any events that will take place during the Daytona 500 Speedweeks, for example, the Clash, pole qualifying, the truck series, the duel, and the other events including the practice sessions. Some additional events will also get the support from the FOX sub channels like FS1 and FS2.
Sports broadcasting was not like what we see nowadays; the channel broadcasting rights belonged to ABC in their program Wide World of Sports. The broadcasts were back then from 1962 to 1978, when they made a record of the race and then edited the contents. The broadcasts only contain the highlighted part of the race and scheduled to air the following weekend. It began to change when ABC started to make a semi-live broadcast in 1974, and it continued until it becomes the ones we watch nowadays.
In the beginning, it was ABC's Wide World of Sports which dominate the broadcasting rights from 1959(the first) until 1978. In the following year, flag-to-flag coverage began its appearance, and it attracted many people to watch the broadcast. In this period, the CBS owned the broadcasting rights until the year 2000. During 2001 – 2006, the broadcasting network was distributed evenly between FOX and NBC, which the even-numbered years belong to NBC and the odd ones to FOX.
Read: Where to watch 2022 Daytona 500 live online
In this upcoming year up to 2024, the Daytona 500 broadcasting rights belong exclusively on FOX, which means you would be able to watch the entire season plus additional events on their channel. Make sure you have prepared your subscriptions before the event begins on February 20th.